Do you agree to the terms?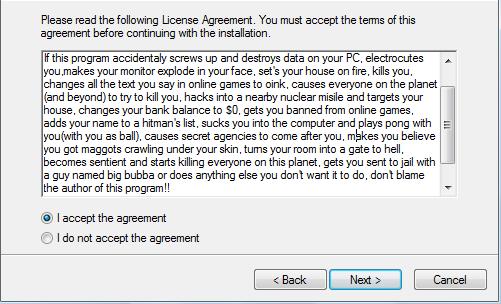 Total Text:

This program is freeware, you can copy it as much as you like.

If this program accidentaly screws up and destroys data on your PC, electrocutes you,makes your monitor explode in your face, set's your house on fire, kills you, changes all the text you say in online games to oink, causes everyone on the planet(and beyond) to try to kill you, hacks into a nearby nuclear misile and targets your house, changes your bank balance to $0, gets you banned from online games, adds your name to a hitman's list, sucks you into the computer and plays pong with you(with you as ball), causes secret agencies to come after you, makes you believe you got maggots crawling under your skin, turns your room into a gate to hell, becomes sentient and starts killing everyone on this planet, gets you sent to jail with a guy named big bubba or does anything else you don't want it to do, don't blame the author of this program!!

Do you agree to this?




Posts

: 166


Join date

: 2010-03-02


Age

: 22


Location

: Canada



That's your odd yes...that is what this is about no?



Posts

: 92


Join date

: 2010-03-03



If you do not unban me from the chat right now horrible things will happen




Posts

: 92


Join date

: 2010-03-03



Little Angel wrote:If you do not unban me from the chat right now horrible things will happen
You have to tell me who you are.. I usually give people 2 minutes or I ban them

Sorry



Posts

: 166


Join date

: 2010-03-02


Age

: 22


Location

: Canada




---
Permissions in this forum:
You
cannot
reply to topics in this forum